Team Building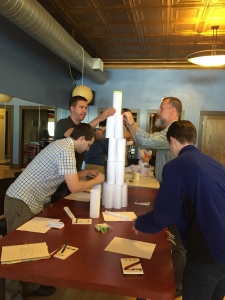 Does your company encourage growth, allow risk-taking, empower decision-making? How flexible, agile and creative are you?
It's no easy task to introduce a culture of creativity into an existing business. I've learned from some of the best and brightest workplace innovators. As a certified administrator of the FourSight™ assessment, I know there is a language for creativity and when understood and used proactively, it empowers teams to work at a higher level, to collaborate and communicate in a way they never have before. I've seen first-hand the positive effect team building has on an organization.
FourSight™ informs employees to gain insight into their teammates' thinking. It provides a tool to explore each other's problem solving approach and get clear on why they have differing points of view. This leads to greater understanding and strengthens the working relationship so they become more effective and comfortable working together, opening up new possibilities and encouraging a whole new level of creativity. The result is a more flexible, agile company practicing everyday innovation that spurs the company on to growth.
JUMPSTART YOUR TEAM OR YOUR CONFERENCE WITH THESE INTERACTIVE WORKSHOPS:
Using Creativity to Build Highly Resourceful and Innovative Teams

Creativity is coming up with ideas; innovation is doing something with those ideas. Business is faced with decisions that impact profitability, sustainability, hiring practices, sales, marketing, operations, and so much more, every single day. Some decisions are small and easily made. Others are more complex. Having the right people in place to manage these decisions is critical. The creative problem solving process provides a tool that maximizes everyone's strengths and builds understanding so that people work better together and grow faster. It provides a powerful way to understand ourselves. It is a beginning to unleash creativity in your organization.

Insights from the workshop will include:

Why utilizing the four pillars of the creative process enhances innovation.
How the Four Sight assessment aids in the hiring process.
Why it is important to recognize individual differences in problem solving.
How your team will benefit personally and professionally


Expected Outcomes:

You will open your minds to new ways of thinking.
You will take home new perspectives on creativity and culture.
You will walk away with 3 important tools.
You will understand how to integrate the creative problem solving process into your workplace.

The Agile Leader

Running a small business can be chaotic, full of crises, always on the verge – the verge of exploding and/or the verge of imploding; operating at the edge of chaos is maintaining the tension between change and constraint. Possessing agility often means the difference between success and failure. In this workshop we explore the 4 main types of agility: Mental, Physical, Change and Results and what they mean to you as you manage your growth.

Insights from the workshop will include:

How to understand agility as a key component of leadership
Why agility is crucial to your success
How to test for and identify agility


Expected Outcomes:

You will open your minds to new ways of thinking
You will be able to measure agility
You will adopt agility as a hiring tool
"You absolutely mesmerized the audience from beginning to end. You captivated them. They were completely attentive. I rarely see people respond that way."
— William Himmelstein, Tenant Advisory Group
To schedule a workshop for your company or to learn more: Call 773-957-8582, or Email Gail@GailZelitzky.com