What is GEARSHIFT™?
GEARSHIFT™ is an innovative, fast track coaching program for business leaders and their teams. It is the result of 5 years of research at DePaul University conducted while working to attain the degree Master of Arts in Applied Professional Studies (MAAPS).
The big question for me was always: "Is it possible for business leaders to embrace creativity and produce consistent, useful and measurable innovation that will keep them ahead of their competition and at the top of their game?" The answer is a resounding YES!! Creativity has always been at the heart of my coaching. Now I've developed a proven method that effectively manages the barrage of challenges and issues constan tly facing business. By incorporating the best problem solving techniques known, top leadership musts and the most collaborative wins into a single program, business leaders gain a life-long process to manage and sustain their businesses, all while enjoying a higher level of satisfaction.
Why GEARSHIFT™?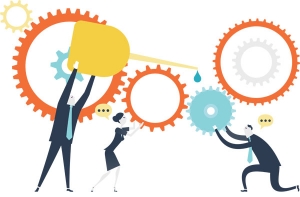 Businesses are similar to machines. They are composed of a series of gears, all of which have to work in sync or chaos ensues. In business, every day brings new challenges – the economy, a new hire that needs training, lack of cash flow, etc. After coaching hundreds of clients in different industries and stages of growth, it became clear that all successful companies get stuck and for business coaching to be effective, it must find the answer to two things:
What is the right challenge to work on now?
How do we create the right solutions?
What is different about GEARSHIFT™?
GEARSHIFT™ operates from the 'Why'
We believe your business is an extension of you, that your personal and professional lives are intertwined and that you are a stronger leader when your values guide you. Understanding YOU benefits your business and all your relationships.
GEARSHIFT™ understands you are a decision maker, rainmaker and #10 gear
You face key decisions to make – changes in operations, economy, costs, additions of new employees, failing revenue, leadership issues, e.g. Seeking advice is a sign of strength. Fortune 500 companies routinely hire coaches for their managers. You are the manager of your business. Do you deserve less? Through GEARSHIFT, you will quickly identify the challenges and open up possibilities that prompt new ways of thinking and turn your issues into opportunities.
GEARSHIFT™ is grounded in measureable results
You set the goals and we measure them and hold your feet to the fire. Your goals may be based in relationships won, change accepted or dollars and cents. You invest in coaching and the results are tangible.
The International Coaching Federation (IFC) commissioned Price Waterhouse Coopers to do a Global Coaching Study in 2012 on the benefits of coaching. This is what they found:
70 % Improved work performance
61% Improved business management
57% Improved time management
51% Improved team effectiveness
Professional coaching maximizes potential and therefore unlocks latent sources of productivity.
Also, coachees reported:
80% Improved self-confidence
73% Improved relationships
72% Improved communication skills
67% Improved life/work balance
Coaching generates learning & clarity for forward action with a commitment to measureable outcomes. The vast majority of companies, 86%, say they at least made their investment back. Virtually all companies and individuals who hire a coach are satisfied.
GEARSHIFT™ is certified in the FOUR SIGHT Assessment
We administer this to all our clients and their teams. Learning to consistently produce breakthrough thinking starts with understanding where your preference lies in the creative problem solving process. It is the foundation for unleashing more effective collaboration, reducing stress in relationships and moving past roadblocks. You learn a new language that improves overall communication. 86% of companies today cite creativity as key to unlocking innovation. 60 years of research proves we can deliberately enhance innovation with tools and training.
GEARSHIFT™ provides the resources you need
As you and your people start to move forward and let go of self-imposed boundaries, GEARSHIFT™ prompts subtle shifts in thinking, tears down old ways of acting and replaces them with more relevant approaches to your work. It offers the mindset, toolset and skillset you need to maintain and increase growth. Through GEARSHIFT™, you soar.
Does GEARSHIFT™ really promise more power, more precision and more profit?
For over 16 years as a coach and business adviser, plus my previous experience founding, owning and leading 2 successful multi-million dollar companies, the success I've achieved coaching my clients is summed up by these three words: Power, Precision, Profits. Now I've distilled them down to GEARSHIFT™.
Power
Power is influence. It brings about change in behaviors, beliefs and opinions – yours and everyone else. Influence is a key leadership trait. Without it your words often fall on deaf ears, your voice isn't heard, you don't get the respect or recognition you deserve. When truly understand what power is, you can influence others to embrace your vision and support you in the accomplishment of your goals. Work gets easier and more fun. GEARSHIFT™ starts with you.
Precision
Precision is the path. To understand the path you and your company are on requires a 360-degree view of, first, who you and how you engage with others. Only when you have a clear picture of yourself, can you set the stage for trust and collaboration. How you market yourself and your products takes on a totally different stance and lets you zero in on solutions, and stop selling. You operate from a 'you' first approach which immediately changes the conversation and makes people want to join your circle. Ideas proliferate and your ability to collaborate expands, leading to consistent productivity. In your company, your employees engage differently. GEARSHIFT™ also takes a vertical look at how well your values are integrated and implemented throughout your company and reflected in your employees.
Profit
Profit is the result. Simply said, you cannot stay in business if you are not profitable. You are in business to positively impact the lives of your employees, clients and suppliers. You do the work you do to have impact on your constituencies. True financial success gives you influence over your workplace, community and greater world. Financial success insures your efforts make a difference. GEARSHIFT™ reviews your financial indicators, helps you create dashboards and determine pricing strategies.
Are you vested in growing yourself and your company? Are you currently driving creative thinking in your organization? Who wins if your people engage differently, embrace your mission and execute on your goals? GEARSHIFT™ gets you where you want to go.
Email us today for a complimentary consultation and see if GEARSHIFT™ is right for you.