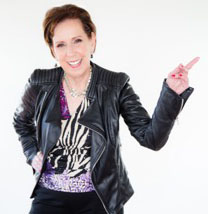 MY MISSION: Coach women business owners to stand in their power, ignite their dreams and rediscover their unlimited, unrealized potential.
Gail Zelitzky has owned her own businesses since 1977: first, a multi-state franchise operation, then a worldwide catalog company and disruptive e-commerce business. Since 2000, she has coached business leaders in all stages of growth to make the leap to the next level. She is recognized for her practical, no-nonsense approach, astute perception of challenges faced by business leaders plus her strategic and creative approach to problem solving. She consistently produces extraordinary results that are at the core of her success as a consultant.
Gail is past president and member of the year of the National Association of Women Business Owners, Chicago and remains active today; Vice-chair of the Small Business Advocacy Council Women in Business Committee; past Chair, Treasurer and Chairman's Award Winner of Lincoln Park Chamber of Commerce; past director of Illinois Retail Merchants Association (IRMA). She frequently publishes articles on business growth and is often interviewed by the media. She is sought after as a speaker and presents keynotes, workshops and seminars.
Teaching is a passion and Gail was contracted by Interise to deliver the StreetWise Steps to Small Business Growth™ curriculum. She is currently an instructor support coach for instructors throughout the 28-state program. Gail has won numerous awards and her entrepreneurial achievements were recognized by Working Woman magazine in the category of Innovative Business Strategies.
From 1994 through 2000, Gail built Liquor By Wire® and Liquor.com® into multi-million dollar businesses. She co-wrote her company's S-1 for proposed 2000 IPO and participated in all functions of the IPO process, including development of a strong management team.
As President, partner and COO of Foremost Sales Promotions, Inc., franchisor of Foremost Liquor Stores®, Gail spent 17 years fueling growth for this 200+ group of independent retailers that achieved nation-wide, chain-store status through mass merchandising, unique sales promotions and co-operative advertising.
Gail is a life-long learner, recently completing her Masters of Arts degree in Applied Professional Studies (MAAPS) at DePaul University. She speaks, facilitates, coaches and consults while championing the cause of business everywhere.